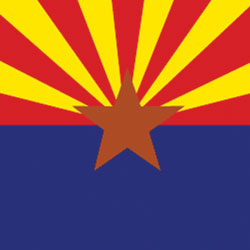 Arizona can be one of the more difficult states to obtain a mortgage license, due in part to the brick and mortar requirement, as well as the necessity for a licensed and experienced Arizona Responsible Individual (RI) from the Arizona RI Program. For mortgage companies looking to expand or start an office in Arizona, it is important to know that the Arizona Department of Financial Institutions (AZDFI) prefers to work with a smaller number of individuals. That means your company can use an RI that is also working with other companies, similar to a BRE broker of record.
If you need a top rated, fully qualified, and experienced Arizona RI, who can fulfill all the requirements to provide compliance for your licensing needs, then please request a quote.
Whether you are in Arizona now or would like to expand into the state, we offer the following services:
RI representation in the State of Arizona
An assigned brick and mortar location
Policy & Procedure Manual for Arizona
Quarterly state compliance file reviews
Coordination of your examinations with the DFI
Examination prep
AZ Advertising Review
Annual license renewal
SOS annual renewal
No per file fee
If you choose MLG to complete your license, as well as to use our RI for your company in Arizona, then we will prepare your Arizona application for free (state and other third-party fees still apply).
Our RI fees are billed at a flat monthly rate, making it a budget-friendly option for your company as you start doing business in Arizona. Our RI will need to be compensated as a W-2 employee, according to the state's statute and our fees must be paid directly as a vendor. Additionally, we do not begin billing until after your license has been approved.
5 Useful Tips To Keep In Mind To Obtain Licensing In Arizona
If you are looking to obtain your mortgage license in Arizona, then locating a company with programs to assist you is crucial, especially if you are not located in the state. To be successful, many companies enlist the services of professional Arizona RI's. The RI stands for Responsible Individual, which can include a company to walk you through the process of getting your license.
Arizona happens to be one of the toughest states to get a mortgage license in, due to its physical location requirement. This is the reason why our Arizona RI program was created.
Here are five tips to help you succeed in obtaining your Arizona mortgage license.
1. Arizona RI program
In order to become fully licensed in the state of Arizona, you need to find a RI representative. This search can be done in a number of ways and is as easy as doing a Google search for Arizona RI Programs in my area. Ensure that the individual that you pick is qualified and experienced, otherwise, it could be a waste of your time and money.
2. Brick and Mortar Location
In order to obtain your license, you have to comply with the brick and mortar laws. Therefore, you will need to have an address within the state. Ensure that the person in the Arizona RI program that you are working with can help you comply with these strict laws even if you are not geographically located in the state.
3. Brush Up On Policy and Procedure
Do all the necessary research to familiarize yourself with the policy and procedures of Arizona mortgage licensing. The professional, whom you partner with for the Arizona RI program, should be able to supply you policy and procedure information for Arizona mortgage licensing, as this is the basis of the steps they must complete.
4. File Reviews
You will need help after you get established as well to ensure that you are following all procedures. Your trusted Arizona RI program individual should provide periodic compliance file reviews. This process ensures you are following all laws that are set up for Arizona mortgage licensing.
5. Fees
You need to be privy of all expected and required fees, which includes the individual professional in the Arizona RI program whom you are working with, as well as filing fees. This process ensures that there are no surprises during the process.
The Arizona RI program was designed to help you successfully obtain your mortgage license. Select  an individual or company who can comply with all regulations and has experience in this area. Go over credentials and reviews of the company itself. Examine the contract in depth and verify the company is legitimate.
For Arizona RI support call us today! Call (866) 576-7726. We make licensing easy.