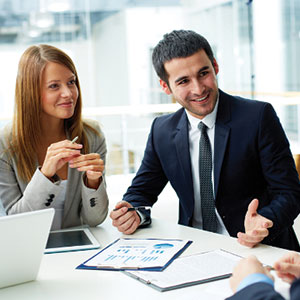 The Mortgage Licensing Group, Inc. is a full-service mortgage licensing firm headquartered in Southern California that is recognized throughout the industry as an experienced and reliable service provider. Established in 2006, our company has been on the forefront of the ever-changing rules and regulations, helping alleviate the often daunting task of meeting the diverse state licensing requirements for our clientele. With more than twenty years of combined experience, our professional staff possesses the knowledge needed to successfully meet your licensing needs.
As the regulatory landscape is being redefined with additional laws and processes, the path to licensing can be time-consuming and complex. Servicing all 50 states and beyond, we are here to help give your company a competitive advantage in the mortgage industry by allowing you to focus on what you do best, originate loans.
Please take the time to examine our website to see a preview of the many services we offer.
COMMITMENT
The Mortgage Licensing Group are committed to helping our clients understand the intricacies of Federal and Multi-State Licensing. We pride ourselves in comprehending the operational side of lending and gear our expertise to further your organization's success.
EXPECTATIONS
Initial Consultation
When you contact The Mortgage Licensing Group, Inc., you can expect a courteous and thorough interview. All information exchanged with our personnel is strictly confidential. You will receive a full assessment and recommendation of the best course of action to take to achieve your company goals. Be advised that The Mortgage Licensing Group is NOT a law firm and does not generate or offer legal advice. Our experienced staff possesses a working knowledge of all state mortgage licensing requirements for both brokers and lenders as well as state mortgage compliance requirements. All of which is essential to facilitate initial licensing and the continued success for your company.
Timeliness
Each company has different needs. The processing of your work request is based upon what you wish to accomplish and the types of services you require. In every case, you will play a key role in optimizing the process for your specific needs. During your initial interview and subsequent contact with our company, you will receive requests to provide extensive information about your company and executive officers, to include financial data, personal information, and updates within your organization. This information is imperative to processing your licensing requests successfully and in a timely manner. Our goal is to develop a relationship that will allow for a regular exchange of information to expedite the successful processing of your requests.
EXECUTIVE PROFILES
Cynthia McClure
A graduate of the California State University system and paralegal with over thirty years of senior managerial experience, Ms. McClure began focusing her skills and expertise of the mortgage licensing industry in 1998 to successfully assist and guide prospective clients through the increasingly complex regulatory, legislative and statutory state licensing process. Through hard work and exceptional service, this frequently referred executive has managed to maintain and expand on a large clientele base generated by direct referrals from satisfied customers. A consummate professional, Ms. McClure has developed a passion for seeing clients through the approval process and prides herself on taking a "hands on" approach to case management. Having worked on all aspects of mortgage licensing, Cynthia McClure is extremely knowledgeable in her field and is meticulous in keeping current on any state changes or updates to the licensing process. When asked what her key was to running a successful company, she replied, "Integrity—matched by passionate teamwork to provide ready, reliable, and exact service to our customers. When you hire MLG, you don't just get me, you get my entire team."
Jim Sammann
After more than 30 years in the Mortgage and Real Estate industry, both residential and multi-family units, Jim Sammann has joined The Mortgage Licensing Group as an Arizona-specific Responsible Individual (RI), available to clients in our comprehensive Arizona RI Program. Jim's experience in the mortgage industry and his physical location in Arizona make him the perfect Responsible Individual for clients around the country wishing to add Arizona to their list of states. Some of his major accomplishments include the management and training of 50+ individuals for Mortgage Bankers and Brokers, including a retail branch bringing in $20 million a month. He has proven customer service and sales time and time again, selling over 200 homes from 1980-1983, and hand-delivering compliance-related materials to the Arizona DFI to meet deadlines for his Arizona RI clients. In addition to his love of flying, Jim enjoys outdoor adventures including Deep Sea Fishing and traveling… We are happy to have Jim on board with us – he consistently proves his ability to go above and beyond the call of duty.
Nicholas Graham
Nicholas Graham has been with The Mortgage Licensing Group for over 6 years. He began as the staff accountant, and transitioned into licensing, eventually leading the branch and LO licensing team. Nick has also worked with company applications, has completed over 400 MCR's with the license maintenance team, and is our resident expert on several state level mortgage reports. With a strong focus in customer service and satisfaction, Nick has now transitioned into administration, and has been our Business Development Manager for the past 2 years. While Nick has been in this role, MLG has experienced explosive growth, and he has been instrumental in spreading MLG's name throughout much of the industry. He possesses exceptional multi-tasking skills, and an uncanny ability to grasp business models and regulations, which, with his extensive experience in all facets of licensing, makes him a perfect contact for consultations. Nicholas truly goes above and beyond for every single client. We are happy he is a part of our professional team. In his spare time, Nick has practiced an Okinawan style of Karate for most of his life and also enjoys grilling, reading, playing chess, and spending time with his 2 young children.
Hayley Moon
Hayley Moon joined The Mortgage Licensing Group in 2012 as a License Analyst. Since then she has worked as a Licensing Manager and now oversees the Quality Control department. Prior to joining the MLG team Hayley graduated from Texas A&M Commerce with a Bachelor's of Science in Political Science an Psychology and attended Florida Coastal School of Law. Hayley is an expert in 50 state mortgage licensing, licensing amendments,  mergers and acquisitions. When not doing multi state licensing Hayley spends her time with her two small children.