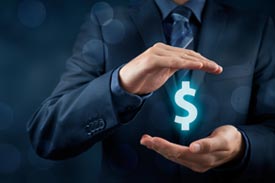 Looking back, 2017 was a legendary year for the real estate industry. The end of summer saw a spike in mortgage purchase applications. The housing market had been expecting some sort of increase, but no one expected the increase to come so soon.
Around September, we saw a 9.9% increase in home buying applications. This was a nice surprise considering purchase applications had been declining before this boost.
This spike paired with a lower refinancing volume means that more homebuyers are interested in purchasing a new home than they are in refinancing their existing home.
So why are more people looking to buy than refinance their existing mortgage? Here are a few reasons why purchase applications increased in 2017.
Good Time to Buy Homes
Here is a normal trend for the real estate market: purchase applications decline for several weeks over the summer, before suddenly increasing after Labor Day.
During the summer, we often see housing inventory tight until homeowners decide to sell their home at the end of the season. This leaves more options for homebuyers, but the market is also cheaper. This further increases the demand for those looking to buy a home.
Lower Interest Rates and Cheaper Loans
September marked the lowest interest rates in over a year. According to Mortgage News Daily, the average 30 year fixed mortgage rate dropped to 4.06% in the beginning of September from 4.46% mid-March.
Those debating purchasing a home jumped at the opportunity to lock in lower interest rates, rather than risking potentially higher future rates.
Decreasing interest rates translates to lower overall costs associated with loans. In 2017 the cost of a loan decreased by an average of $2,000. These savings from lower interest rates are even more pronounced for higher-end real estate purchases.
For those who rely on large loan-to-value ratios, these figures have a lot of influence on how much they're paying for their home.
2017 saw a general increase in home purchase applications throughout the States. Even with inventory being low, 2017 had more homebuyer interest.
These lower interest rates coupled with an increasing availability of mortgage loan options, such as government sponsored loans for lower income families, further contributed to this increase seen in home purchase mortgage applications.
Millennials are Becoming Homeowners
One homebuyer demographic on the rise is millennials. As early as January 2017, 34% of homebuyers were millennials. The number increased even more between August and November.
One of the major trends in millennial culture is the rise of luxury apartments; monthly rent is expensive and the job market is still not up-to-par with these high costs.
More millennials are taking advantage of FHA loans, finding the down payment and monthly mortgage more affordable and worthwhile than a luxury apartment or condo.
Will Purchase Applications Continue to Increase?
Predicting the future is impossible, especially when forecasting trends in the real estate market.
However, it seems likely purchase applications will continue to increase. Loans are cheaper, more accessible, and many see owning a home more worthwhile than renting an apartment or condo.
Other factors, such as millennial homebuyers, low inventory and seasonal trends, also contribute to the increase in purchase applications seen in 2017. This number will potentially increase even further if refinancing figures are still on the decline.
Consequently, this is a great time to be a mortgage lender or broker. It's vital if you're in this field, to keep current with your licensing requirements. Contact us for more information on your state's mortgage license maintenance requirements.
The Mortgage Licensing Group, Inc. is a full-service mortgage licensing firm headquartered in Southern California that is recognized throughout the industry as an experienced and reliable service provider. Established in 2006, our company has been on the forefront of the ever-changing rules and regulations, helping alleviate the often daunting task of meeting the diverse state licensing requirements for our clientele.