In order for Loan Officers in California to legally advise borrowers on available loan programs, discuss rates, suggest a lender or originate a loan they must first obtain their California Dept. of Business Oversight (DBO) Mortgage Loan Originator (MLO) License through the Nationwide Multistate Licensing System (NMLS).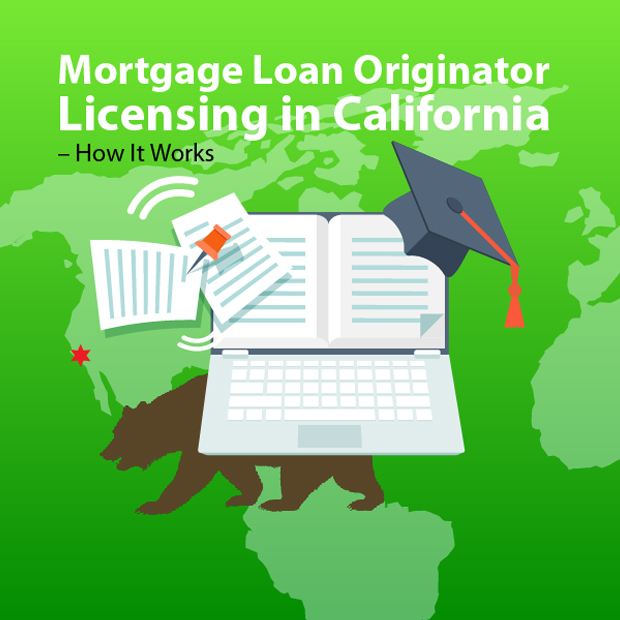 Steps Overview:
Apply online for an NMLS account and ID number
Complete your Pre-License Education
Pass your licensing exam with a – 75% Passing Score or better
Apply for a license with the NMLS
Complete your background checks and pay all related fees
Associate your NMLS account with an employer (Sponsor)
Steps Explained:
The first step on the path to becoming a fully licensed MLO requires applicants to complete 20 hours of pre-license education through a NMLS System – approved provider. These classes can be done online and include 3 hours of Federal Law, 3 hours of Ethics, 2 hours of Non-traditional Mortgage Lending plus 12 or more hours of electives. This may be in addition to required California content.
Upon completion of your pre-license training, you'll need to contact a state-authorized testing facility to schedule and you're your California state licensing exam. This exam is computer-based, multiple choice, 75% or better passing score. You will have to wait 30 days to retest if you fail the first test and another 30 days if you fail the second test. There is a 180 day waiting period if you fail a 3rd time.
With a passing grade recorded and visible in your NMLS profile, you can now apply for your license.
Subsequently, you are required to provide fingerprints and submit to a background check through the NMLS. You will need to make an appointment through a state-approved fingerprinting service. The process generally takes 5 to 15 minutes.
Once your license application is approved, it will remain inactive until it is properly associated with the lender that is sponsoring you. Upon association, congratulate yourself, you are now authorized to lend in the great state of California.
Maintenance Required:
California MLOs must renew their licenses by December 31st, of each year.
The Mortgage Licensing Group, Inc. – we're here to help if you need a hand navigating the complexities of the California DBO licensing process.